Natural Sleep Support: Micro Melatonin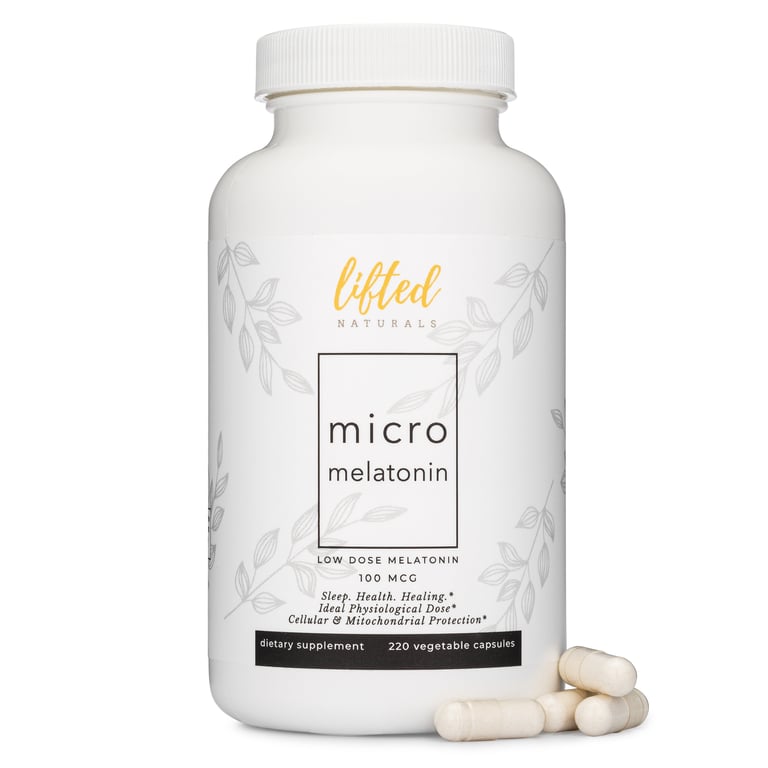 Our newest Lifted product is here! And this product is all about sleep-support.
Micro Melatonin is a low dose melatonin supplement featuring just 100mcg of melatonin per capsule.
This is the perfect physiological dose of melatonin for modern living and modern sleep!
Trouble falling asleep?
Due to our modern lifestyle, exposure to screens, and other blue light at night... many people have difficulty falling and staying asleep.
Why? Well, exposure to blue light AFTER the sun has gone down is confusing for our body and our circadian rhythm.
Our body does not begin to produce melatonin until after the 'blue lights' are out. Yes, that means the bright overhead lights, phones, TV, tablets, screens, etc… are all confusing our brain and body, and are possible culprits of our sleep issues!
While the sun is a NATURAL source of blue light, it is unnatural for our bodies to be exposed to blue light AFTER the sun has gone down.
This alone is a big cause of sleep issues for people leading busy, modern lifestyles...
UNTIL NOW.
Our new product, Micro Melatonin is directed to be take one to two hours before bedtime so that adequate melatonin levels can be reached when you need them the most. So, when your head hits the pillow, you will actually be READY for sleep.
Why low-dose Melatonin?
Because LESS is more when it comes to melatonin, a POWERHOUSE supplement for modern living.
However, typical melatonin supplement doses leave most people feeling groggy in the morning, which is not helpful at all.
Which is why we created Micro Melatonin: the perfect LOW-DOSE melatonin supplement for optimal sleep and health!
With just 100mcg per capsule and the option of taking anywhere from 1 to 3 capsules each night, you can choose your perfect micro dose for your sleep needs!
Melatonin for immune support
Melatonin is known for its immune-supportive properties. Melatonin influences nearly every cell in the body and is potent for cellular health.
Melatonin for brain health
Melatonin is a promising neuroprotective supplement which is able to cross the blood-brain-barrier. Because melatonin levels naturally decrease when we age, supplementing with Melatonin can provide the body with additional sleep and health support. Melatonin has also been shown as helpful for Central Nervous System disorders.
And, of course: Melatonin for sleep
Melatonin has proven to be a natural way to synchronize circadian rhythms and improve the quality and onset of sleep. We recommend taking Micro Melatonin one to two hours before bedtime.
Melatonin is a true SECRET weapon for health. We are so excited to hear how our low-dose melatonin can help you sleep better, and feel better today!
Learn more in our video below,
xo,
Sylvia, Cofounder of Lifted Naturals
PS: Did you know that Lifted Naturals MOOD Probiotics are available on Amazon.com, Walmart.com, and directly from our Online shop? Purchase them wherever you love to shop.