Gut Health and Sleep are More Connected Than We Thought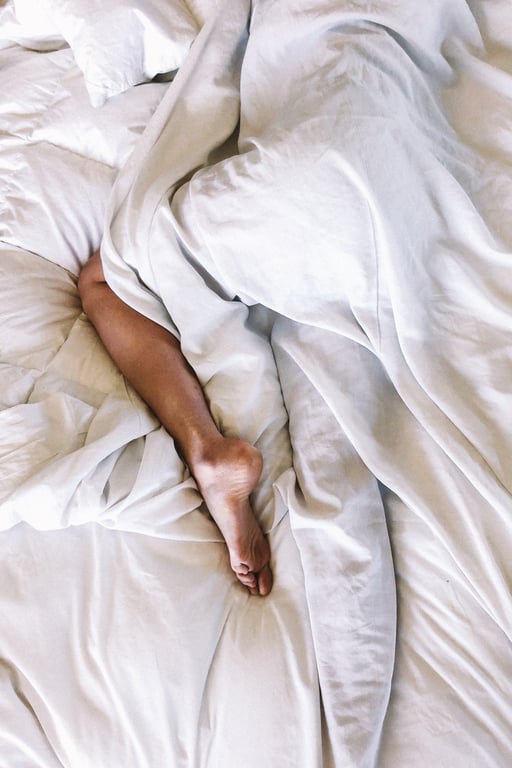 You've often heard how important it is to have a healthy gut and have also likely heard about the importance of quality sleep.
However, many people are not aware of how connected these two subjects are.
Health experts would describe the relationship as a "two-way street," but why is that?
How do gut and sleep quality affect each other, and how does this impact your health?
Poor sleep can mean an unhappy gut microbiome
You may already know the harmful effects of poor sleep or not having enough sleep, such as mood and memory issues, weight gain, weakened immune response, high blood pressure, poor balance, problems with focus and concentration, and many more. Many resources do not explicitly highlight how it affects the gut.
A study was done in 2016 to investigate the relationship between poor sleep and the composition of the gut microbiome. The subjects of the study were nine men who were all healthy and young. All subjects have regular sleeping and eating patterns. For the study's purposes, they were subjected to two nights of partial sleep deprivation.
The results of the study showed:
- Good bacteria in the gut decreased
- Insulin sensitivity decreased
- Composition of the microorganisms linked to type-2 diabetes and obesity underwent changes
Furthermore, watch out for fragmented sleep or restless sleep. This type of sleep prevents the body to spend the right amount of time in the restorative phase of sleep. As a result, the gut microbiome is unhappy and affects the metabolism instantly. Another effect is fatigue, which makes you turn to caffeine and sugar to power you through the day.
The gut produces sleep hormones
This is one of the perfect examples of the gut and sleep's relationship. The gut is responsible for regulating the product of sleep hormones as well as the distribution. These sleep hormones are serotonin, melatonin, dopamine, and GABA. So if the microbiome is unbalanced, the levels of these hormones become unbalanced, too. The result? Poor sleep!
The circadian rhythm affects the microbiome
The circadian rhythm is the body's sleep-wake cycle. The National Institute of Health defines it as "...physical, mental, and behavioral changes that follow a daily cycle. They respond primarily to light and darkness in an organism's environment."
This study showed gut microbes also follow a day and night rhythm, which influences the circadian rhythm. Thus, when the body's sleep pattern or behavior changes, this also affects the rhythm of how the microbes move around. How will that affect you? This imbalance can affect different processes that involve the gut, such as metabolism.
If you are struggling to get your circadian rhythm back on track, a low dose melatonin supplement like this one may do the trick!
A healthy gut impacts mental health
The gut microbiome is like the second brain of the body because it is home to around 100 million nerve cells. These cells communicate with the brain and central nervous system to ensure that processes like hormone production, digestion, mood, immune function, and emotional responses function as they should.
Now, the gut microbiome has a multi-faceted relationship with mental health and sleep. If you have a healthy gut, you'll be able to sleep better and improve your mental well-being. It's also the other way around. If your mental health is stable and healthy, you will sleep better, too. Studies have shown that people who suffer from mood issues and insomnia often have poor gut health.
Stress is the enemy of sleep and gut health
Stress is neither good for your gut nor sleep. Every day, people worry about different things like relationships, finances, career, school, or other things. These worries affect how you think, especially before you sleep. You either have trouble falling asleep or can't stay asleep. And when your sleep is disrupted, it then affects your gut health.
In Japan, a study was made to see how probiotics will affect students who are under stress. The subjects of the study were 4th-year medical students who are about to take their exams. This was a time where stress was high. The study ran for two years. The result showed that students who took probiotics experienced better sleep— even under stress.
Working on your sleep cycle and gut health
If you're someone who has been dealing with unhealthy sleeping habits for a while, now you know that your gut health can be compromised. It's time to try and to support your sleep cycle and make your gut microbes happy.
Here are some sleep tips you can put to the test:
- Go to bed and wake up at a specific time every day.
- Explore a nighttime routine that can help your body and mind settle down before sleeping. Aromatherapy and taking a warm bath are helpful.
- Avoid distractions and screen time before going to bed; opt for reading or meditation instead.
- If you prefer to drink coffee, it's best to drink it in the morning or in the early afternoon. If you drink it too late the afternoon, it can affect your ability to sleep on schedule at night.
- If you're looking for a natural sleep aid, consider a low-dose melatonin.
It takes commitment and effort to build good sleep habits. Often, we sacrifice hours of sleep for productivity, but as you can see, this isn't healthy for the gut.
Work on your sleep quality to improve your gut health. Hopefully you'll be feeling better and more rested in no time!
xo,
Sylvia, Cofounder of Lifted Naturals
PS: Did you know that Lifted Naturals MOOD Probiotics are available on Amazon.com, Walmart.com, and directly from our Online shop? Purchase them wherever you love to shop.