Absolutely Everything You Need To Know About Mood Boosting Probiotic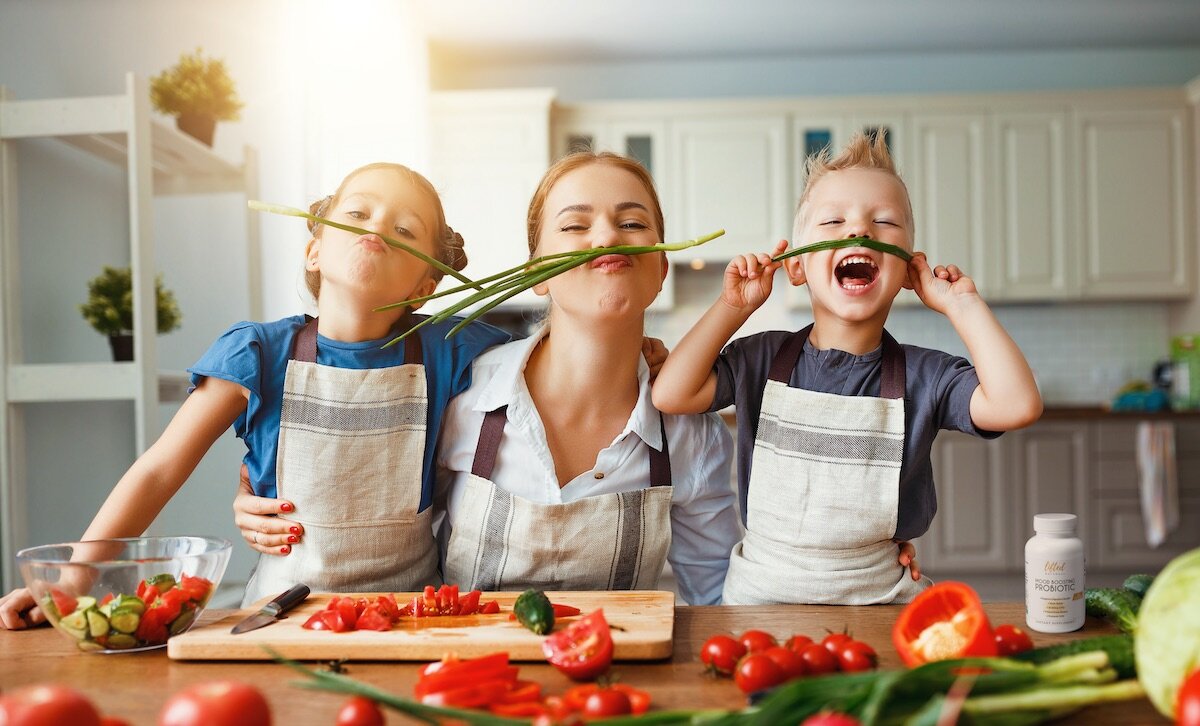 Can probiotics really change your mood?
In a word, YES.
How can probiotics impact mood? It's all about the specific strains of good bacteria which have been shown to modulate stress and support mood.
Interestingly, these probiotic strains can also help with the typical digestive support issues too.
Read on to find out what makes Mood Boosting Probiotic the BEST probiotic for mood and stress!
The gut-brain connection
Did you know that over 70% of our brain's serotonin is made in our gut? And that's just ONE neurotransmitter. There are numerous other neurotransmitters involved in the gut-brain connection.
The specific types of good bacteria we included in Mood Boosting Probiotic have been shown to help with mood, the body's stress response, and neurotransmitter support… all of which are involved in the gut-brain connection.
The gut-brain connection refers to the TWO-WAY communication between the gut and the brain. They are in constant communication.
Which is why we often say that stress and mood issues are not all in your head, but they could be in your gut!
Discovering the POWER of the gut-brain connection has been absolutely life changing for me and for so many our customers.
What's in Mood Boosting Probiotic?
ONLY ingredients we are proud of.
Mood Boosting Probiotic contains a proprietary blend of specifically selected PROBIOTICS and PREBIOTICS.
This formula features 30 billion CFU of NINE specific types of feel-good probiotic bacteria.
It also includes a specific type of prebiotic, called Galactooligosaccharide (say that three times fast!). It is often called GOS, for short.
The prebiotic GOS was also specifically included in Mood Boosting Probiotic due to its stress-busting qualities. (SOURCE)
Our product has NO added fillers, NO icky extras, NO unnecessary junk.
Why do companies DO THAT, anyway?!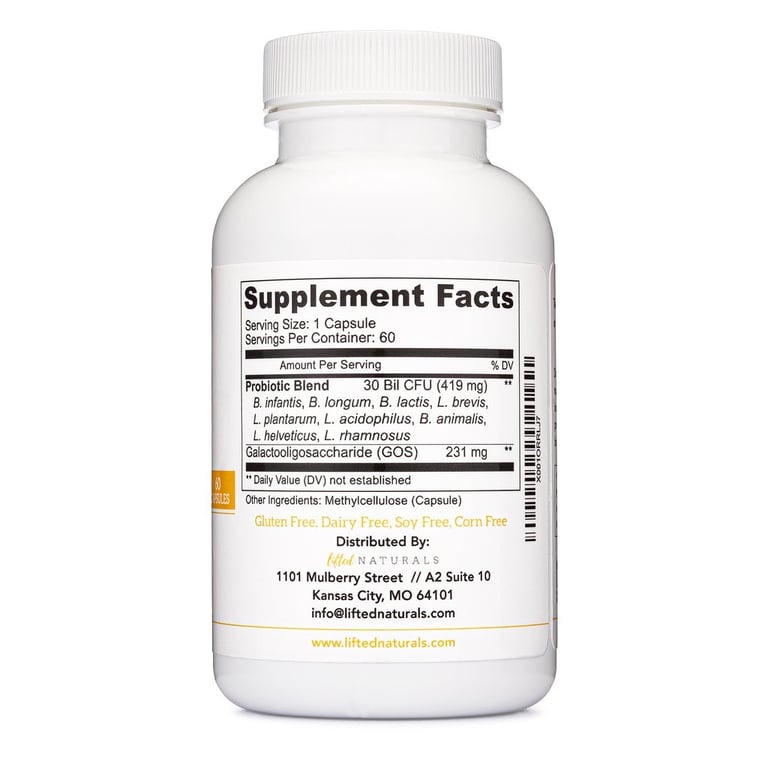 The science behind formulating Mood Boosting Probiotic
To create the specific formula for Mood Boosting Probiotic, we were very selective about which strains of probiotic bacteria we would include. And, yes. Our products are always made at our GMP Certified facility here in the United States and we routinely have our probiotics third party tested.
When it came to formulating this product, every single bacterial strain included in Mood Boosting Probiotic had to pass the test of: will this help with mood and stress?
Here are a few of the research papers we used to help us decide which probiotic strains to include:
Plus! Here are a few MORE papers we studied during the time of formulating Mood Boosting Probiotic:
Science is the contemporary language of mysticism
But that research is really only half of the story.
If you are truly, strictly, science-minded you can just stop right here.
However, if you are like me, and believe in a greater intelligence than we typically access on a daily basis, keep reading.
And if you can agree with one of my favorite teachers, Dr. Joe Dispenza, that 'science is the contemporary language of mysticism,' then you are really going to want to hear this…
You see, when I was in my darkest moments of despair and not feeling anything like myself, and waking with a daily feeling like I might jump out of my skin, I begged for an answer.
And with that plea, I promised to share the answer (if I could find it!) and help as many people as I could… if only I could get some relief.
And with Mood Boosting Probiotic, that's exactly what happened.
And that's exactly why I'm here.
And maybe that's exactly why you are here, too?
Mood Boosting Probiotic was absolutely created with stacks and stacks of research.
And it was ALSO created with my intuition.
You can call it a gut feeling, destiny, or even blind luck.
But to me, the nudges I received and followed while creating the formula were not random.
The creation of our company Lifted Naturals and our debut product Mood Boosting Probiotic, was absolutely a combination of many amazing synchronicities.
If you are struggling to feel like yourself… to be the kind of parent/partner/person you desire to be, I want you to know: I have been there and there is hope.
Who Is Lifted Naturals?
At Lifted Naturals, we are more than just a supplement company - we are a wellbeing movement. We are extremely passionate about the gut-brain connection and our mission is to help people feel better, naturally.
We believe in the power of probiotics for mood… and so much more! And as a sensitive individual, I (Sylvia) understand the importance of having non-histamine producing probiotics on the market.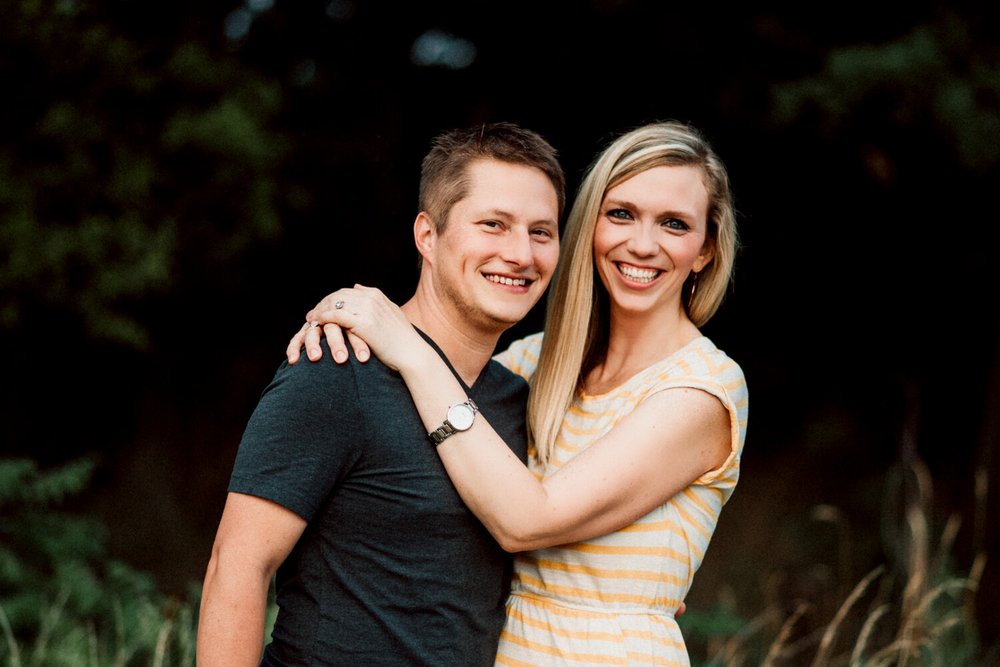 Our company is founded by me, Sylvia Hall, and my husband, Tim Hall.
Our manufacturer is located in the USA and is extremely rigorous when it comes to quality standards. Our facility is GMP and NSF certified.
NSF certification is one of the most prestigious certifications for supplement manufacturers. We don't make anything we wouldn't take ourselves. Period.
We are a small family business located in Kansas City, MO. We currently sell exclusively online.
Mood Boosting Probiotic Reviews
Now, I'd love to share a few review of Mood Boosting Probiotic from our raving customers. I've shared just a handful below… but we've had thousands of happy customers!
Mood Boosting Probiotic complaints?
There are two main 'complaints' we receive about Mood Boosting Probiotic.
The first complaint is that it is too strong and may cause a die-off response. The solution to that is simple and most people don't know about it. But as of today, you will know!
SLOW AND STEADY WINS THIS RACE.
What do we mean by that?
Well, our probiotic capsules can be opened, which means you can start off on a lower dose to give your body time to adjust to the new, beneficial bacteria.
You can open the capsule sprinkle a bit into a smoothie or drink, and then close the capsule and use it over the next several days.
Some people start with a full capsule and do just fine, but many people benefit from the slow and steady approach.
The second complaint is that it may cause a histamine response. If you are truly histamine-intolerant, you will want to reach for one of our other three formulas. The other three Lifted Naturals MOOD Probiotics are all NON-histamine producing.
Mood Boosting Probiotic has some strains that are histamine degrading and some strains that are possibly histamine-promoting.
So customers who only deal with very mild histamine issues often do JUST fine with this formula. In fact, many do!
But for more highly sensitive individuals, Bifidus Mood Boost, Mood Super Strains, or SBO Mood Boost may be a better choice.
HOW MUCH DOES IT COST?
What's the cost of staying in a bad mood?
The cost of being perpetually stressed?
What's the cost of not showing up for your kids?
Or your spouse?
Or YOURSELF???
What's the cost of a life half-lived, or the cost of regret for chances not taken?
Way. TOO. Expensive.
But our Mood Boosting Probiotics?
They are only $28.88 for a TWO MONTH supply...
That's just .48 cents a day.
You can shop Mood Boosting Probiotic directly from our store by clicking any of the buttons sprinkled throughout this page!
If you have any additional questions, feel free to reach out. We are always happy to help.
Have a beautiful day!
xo,
Sylvia, Cofounder of Lifted Naturals
PS: Did you know that Lifted Naturals MOOD Probiotics are available on Amazon.com, Walmart.com, and directly from our Online shop? Purchase them wherever you love to shop.