Probiotics, aka, good bacteria, can help with a lot of things. This article outlines 7 healing benefits of taking a probiotic, along with scientific backed research to stand behind each reason.
Let's jump in!
REASON NUMBER ONE.
…you want to poop more regularly.
If you are pooping too much or not enough, you would likely benefit from taking a probiotic.
(Generally, healthy adults poop once or twice per day). (1, 2)
REASON NUMBER TWO.
…you want to help prevent diarrhea during your antibiotic treatment. (3)
Remember! The job of an antibiotic is to kill ALL the bacteria. Antibiotics cannot differentiate between good bacteria and bad. So… replenish your gut's good bacteria by taking a probiotic during and after your antibiotic prescription.
REASON NUMBER THREE.
…you want to enhance your mental health.
Your anxiety and mood issues are not all in your head… But they might be in your gut!
The gut-brain connection is real. Improve your mental health (and mood!) by enhancing your gut health with a probiotic. (4)
REASON NUMBER FOUR.
…you want to promote a healthy body weight and put up a personal fight against the obesity epidemic. (5)
Gut gut flora is beneficial for maintaining a healthy weight. Did you know that!?
REASON NUMBER FIVE.
…you want to treat your eczema naturally. (6)
Take a probiotic to enhance your immune system and treat autoimmune issues like eczema and asthma.
REASON NUMBER SIX.
… you want to balance hormones, naturally. (7)
Take a probiotic supplement to help rid your body of excess estrogen and balance female hormones.
REASON NUMBER SEVEN.
… you want to heal your immune system and heal allergies naturally. (8)
Allergies are no fun. And the over the counter medications often have vicious side-effects. Why not try to heal your allergies naturally with a high quality probiotic?
That's wrap!
Isn't it exciting to have a natural option for these issues? The best part? Beneficial side-effects!
We're pretty excited about our probiotic and the benefits our customers are experiencing.  Our formula is specifically target to help with mental health as well as all the other digestive and immune benefits listed above.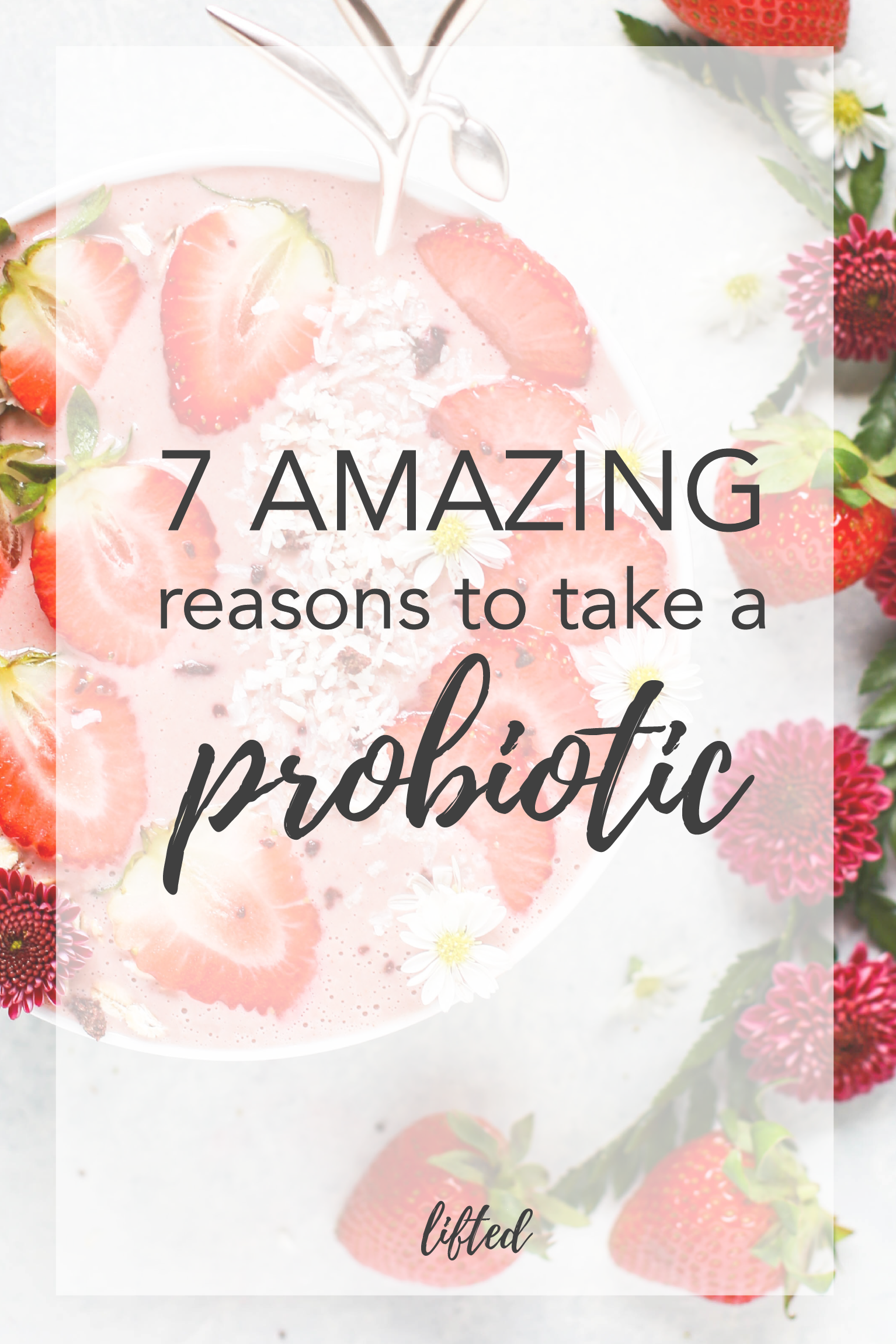 Have you used a probiotic for any of the above reasons? Or maybe you've used it to help with something else? We love hearing from you.
Comment below with your story or ask us a question. We'd love to help!
Sylvia | Cofounder of Lifted